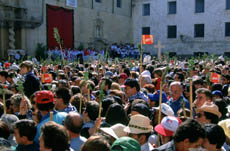 03599

contact information
A pilgrimage to Monasterio de la Santa Faz is held every year on the Thursday after Holy Thursday. Find out more.
Festividad de la Santa Faz is a popular pilgrimage in which almost 300,000 people take part. Starting at Concatedral de San Nicolás in Alicante, the pilgrims walk 8km to Monasterio de la Santa Faz, home to a relic of the saint, in a demonstration of religious devotion and adoration.
During the walk, the pilgrims stop a number of times to take a break. At one of these, local wine and homemade aniseed rolls are shared out to give the walkers the energy they need to continue on their way. When they finally reach Santa Faz, the devout impatiently await the revealing of the holy painting. A religious ceremony that concludes in prayer.
Close by, Santa Faz fair is held with stalls selling artisanal, traditional and gastronomic products. Leaving the celebration with a beautiful object is somewhat of a local custom. Come and live it all for yourself.
*Please confirm event times and dates have not changed.
More information
Schedule
Segundo jueves siguiente a Jueves Santo