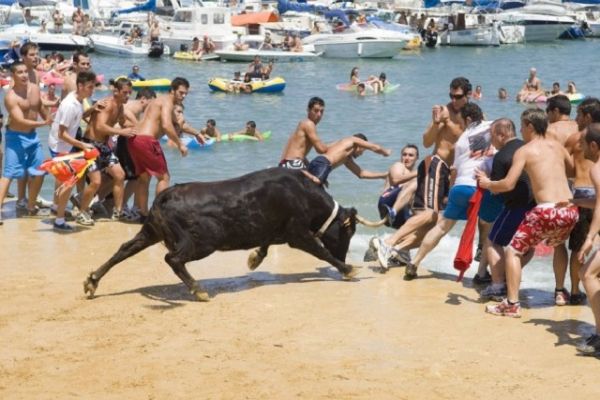 03700

contact information
The Festa Major de Dénia is organized around the day in honour of the Santíssima Sang (Holy Blood), which is celebrated on the second Wednesday after the festivity of Saint Peter.The activities begins the Friday or Saturday before that day and ends the following Sunday.
The program consists of religious events and other types of activities such as concerts, shows, sports championships, gastronomic competitions, children's activities, bull running and much more...
The most important events are:
Bous à la Mar, bull running show by the sea, declared a Festival of National Tourist Interest, with two daily sessions in the enclosure installed in the port area. The act consists of releasing cattle, which the participants follow in the "entrà" (bull running). The tour finishes in a "bull ring" with one of its sides open to the sea. This way, some of the participants (animals included) end up in the water, later to be extracted by the help of a boat.
Correfoc, a fire show that runs through the lively streets of the city centre on the eve of Holy Blood Day.
The Procession of the Holy Blood, a religious act in which the stature of a lying Christ of more than 300 years old crosses the historic center, the event always takes place on Wednesday.
The Concert of the Musical Artistic Association of Denia which is celebrated on the same day of the Holy Blood.
The Carrosses Parade, a parade of floats, troupes and music that surprises adults and children, is declared of Provincial Tourist Interest and takes place on the last Saturday of the festivity.
The Musical Fireworks show is held on night of the last day.
More information
Other information
The date of celebration in the year 2021 will be from 3 to 11 July. Wednesday 7 July the local holiday in honor of the Holy Blood.
Type of interest
Provincial tourist interest
National tourist interest