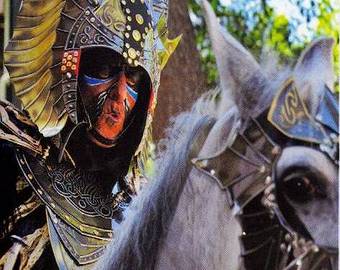 03700

contact information
The great days of the Moors and Christians Festivities in Denia are from 13 to 16 August, currently are 16 "filaes" or groups that make up the Moorish and Christian sides, both participate in the parades and other acts that fill with joy, music, color and gunpowder the streets of the city.
The first weekend of August marks the beginning of the celebrations with the proclamation and delivery of city keys by the authorities. The previous days the captains gather the participants of the groups in their receptions, and the Agrupación Artística Musical de Dénia stars a big concert that offers pieces related to the celebration.
During the days of the festival highlight the following acts:
Day 13: the landing of the Moorish side in the waters of Dénia.It is held in the port and there it is received by the Christians and together they sign the truce that invites them to coexist in the following days.
On the 14th: the children's parade, in which the little ones star the parade sporting their best galas in the center of the city.
On the 15th: the gala parade, a very participatory and awaited parade, especially the captains work hard all year to offer a show worthy of admiration.This takes place along the street Marqués de Campo and some adjacent streets.
On the 16th: the final battle, coinciding with the day of Sant Roc last day of the festivities, the two sides are engaged in a battle for the conquest of the lands that ends with the Christians as victors and causes the abandonment of the Moorish troops.
This same day the brotherhood of the saint, also organizes acts such as mass, the meal of brotherhood and procession that goes through the historic center,
More information
Other information
Consult the programme with the tourist info.
Type of interest
Autonomous tourist interest