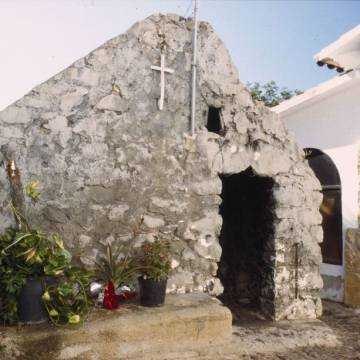 Camí de la Cova de l´Aigua
30
03700

contact information
This hermitage is connected to the life and works of the Venerable Friar Pere Esteve. Born in Dénia (1583-1658), in a house at calle Loreto which has a plaque to commemorate this, he thought to begin the Patron Saint celebrations of the "Santísima Sang". Based on oral accounts in 1633, the residents of Dénia suffered a cholera epidemic. Friar Pere Esteve ordered to start the procession of the "Santísima Sang" image and afterwards, he blessed loaves of bread which he gave to the sick people, and as the tradition narrates, they were healed. He is considered as the holy man with the most devoted worship in Dénia and other towns in the district.
Friar Pere, known as "Pare Pere", devoted a lot time to spiritual retreat, prayer and meditation where the hermitage which bears his name was built in homage to him. The traditional story never denied by the Dénia citizens states that Friar Pere Esteve used the stone shed to take refuge during a period. The shed is a vaulted structure built out of stone whose small size makes it uncomfortable to access.
Several recent studies by local historians testify that this structure was built as a cistern with the aim to collect rain water from the torrential runoffs of Mount Montgó in the 17th Century. The most certain aspect of the tradition is that the Franciscan friar used this shed to protect himself from harsh weather, since its construction was most probably prior to the occupation by Friar Pere Esteve.
The hermitage was built in the 20th Century. Its interior houses scenes (in ceramic images tiles) of the life and works of the Venerable Friar Pedro Esteve.
More information
Schedule
Friar Pere shed remains open on a permanent basis. The Hermitage usually remains open, not only during the liturgy activities timetable but at different times as well. Liturgy activities timetable: Sundays at 12:30 h.