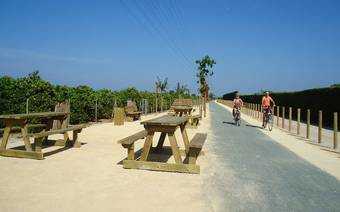 The "Vía Verde" (Green Route) of Dénia is based on the railway route which connected Dénia-Gandia and comprises part of the Dénia-Carcaixent line, the oldest narrow railway track of the peninsula which operated for 90 years.
The landscape is mainly agricultural, surrounded by orange, almond and vegetable fields and flanked by the silhouettes of two emblematic mountains of the Marina Alta, the Montgó Natural Park and the Sierra Segaria. It is also crossed by the river Alberca, and in it you can observe plants and birds characteristic of riparian ecosystems. Along the road have been planted shrubs and trees of native species: pine, Aleppo, Valencian oak, strawberry, etc...
Distance: 6,5 km between Dénia and El Vergel
Duration: On foot 1h40' and by bicycle 35'. Accessibility: suitable for wheelchair users throughout the route. 2 reserved parking spaces at the beginning greenway. Type of route: Flat, low-difficulty route, accessible by foot, bicycle or wheelchair and suitable for adults, children and people with reduced mobility.
The road has rest areas, viewpoints and furniture for the practice of physical exercise. Along the route there are several wooden bridges that cross different ravines, also a footbridge of 18 m to cross the river Alberca. There is the possibility of deviating from the road by several paved rural roads that cross it and go towards the sea.