Excursion Island of Tabarca and Palmeral de Elche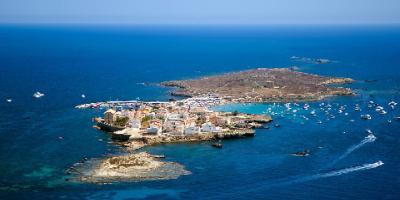 Enjoy a full day with a guided visit to the Island of Tabarca, with bus transfer from origin and from Santa Pola by boat, lunch at a Tabarca restaurant and visit to the Palmeral of Elche.
Discover this wonderful island, its corners and above all its history, anecdotes and legend.
INCLUDES:
* BUS TRANSPORTATION FROM ORIGIN
* CATAMARAN TRIP FROM SANTA POLA TO THE ISLAND (ROUND TRIP)
* UNDERWATER VISION IN CATAMARAN
* GUIDED VISIT TO THE CITY OF TABARCA
* TYPICAL FOOD IN ARROCERÍA RESTAURANT IN ISLA DE TABARCA
* VISIT TO THE PALMERAL DE ELCHE

Typical food: Starters in the Center: Valencian Salad, Fish Fritters, Squid a la Romana, Main course to choose between Rice a Banda or Fideuá, 1 Drink (Wine and Soda or Water) and Dessert.
Children children's menu: Starters to the center Squids and Croquettes, Main course; (Rice, Fideuá, Chicken, Macaroni) Water or soft drink and Dessert.