Procesión del Domingo de Ramos (Fiesta de Interés Turístico Internacional)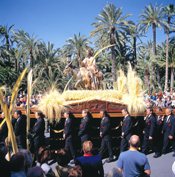 03201

contact information
Elche's Palm Sunday procession has been listed an Event of International Tourist Interest. Come and see the beautiful artistry of the palms carried through the streets by thousands of participants.
Elche boasts a number of sights and traditions that have been granted UNESCO status, namely Misteri d'Elx, El Palmeral and Museo Escolar de Pusol. But that's not all the town has to be proud of. Listed an Event of International Tourist Interest, Procesión del Domingo de Ramos brings thousands of people onto the street on Palm Sunday, carrying beautiful palmas blancas, works of art made out of the white part of palm trees, for one of the most important events in the Easter calendar.
In the days leading up to the event, the town starts its preparations with the Palma Blanca market. The stalls are filled with beautiful and intricate pieces made from the tree, which you can purchase to carry during the procession and then take home as a souvenir.
The procession commemorates Jesus' entry into Jerusalem. It is said that he rode a donkey, which explains the image of the event, pas del burret, which literally translates as 'the walk of the donkey'. Procesión del Domingo de Ramos is not only a sentimental event that will get your emotions going, it is also a showcase of the beautiful artisanship the Region of Valencian is renowned for. Don't miss it.
More information
Schedule
Depending the year.
Type of interest
International tourist interest