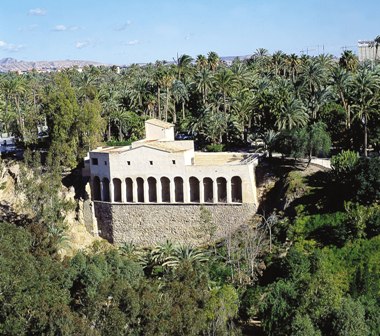 Hort del Real, Parc Municipal
03203

contact information
Discover a piece of Elche's past at Molí del Real, an old flour mill.
Parque Municipal in Elche is home to a site that tells a slice of the town's history. Molí del Real is an old flour mill that was in use until the 1940s.
Molí del Real dates back to the 18th century, although some people say that it is much older, with its origin in Islamic times. Initially, the mill functioned thanks to the waterfall created by the Mayor irrigation channel, milling the grain and turning it into flour. It then became what is known in Spanish as a molino maquinero, meaning that local farmers could bring their grain here to mill it.
Want to know a little bit more about the mill's history? Well, it was a private property until the year 1957 and from then on it was used as a workshop (until the 20th century) dedicated to the production of palma blanca, a traditional craft that creates ornamental figures out of palm trees.
The western façade of Molí del Real is architecturally interesting: a number of buttresses are supported by twelve Renaissance arches.
The mill is definitely worth visiting during your time in Elche, a place where you can discover another piece of the town's fascinating past.