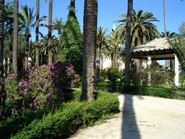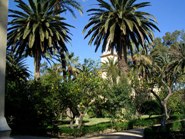 Take a stroll through pretty Jardín del Marqués de Fontalba and feel your worries melt away.
In the south of the province of Alicante sits a small municipality named Jacarilla. In the heart of the village, you can visit a pretty park that was built between 1926 and 1922 by Francisco de Cubas and Erice, Marquis of Fontalba.
Expanding over 20,000m2, Jardín del Marqués de Fontalba comprises a palace with extensive grounds. It was designed to be a place for rest, relaxation and recreation at certain times of the year.
As you enter through Puerta de los leones (The Lions' Gate), you will be greeted by the majestic sight of a large avenue flanked with palm trees. Inside the park you can see various points of interest, such as Virgen de la Almudena grotto, the sun clock and many statues and fountains.
A wonderful place to take a stroll, detach from your worries and enjoy the lovely views.