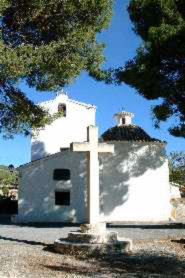 The central act of this feast day is the pilgrimage to the Shrine of Santa Ana located on the outskirts of Onil in a beautiful spot that bears the same name, where the porrat is organised. The most ludic events are left until the weekend with verbenas (open-air celebration on the eve of a saint's day) and jumping, stone-throwing contests and popular races.
More information
Schedule
Sábado 21 de julio, verbena de Santa Ana
Jueves 26 de julio, Santa Ana. Juegos populares y misa en la Ermita de Santa Ana.
A las 19:30 horas, Misa en la Ermita
A continuación, todos los niños que quieran podrán participar en los juegos populares.