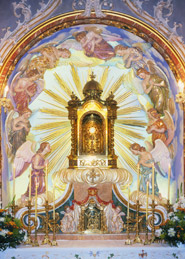 Traditionally in Onil, as with each year, in the month of November the Feast of Nostre Senyor Robat (Our Stolen Lord) is celebrated, in which the events that happened in the early hours of 4th to the 5th November 1824 in Onil are commemorated. It was on this night that the Sagrada Forma Consagrada (Sacred Hallowed Form) and other objects of Worship were stolen by Nicolás Bernabeu.

Nicolás Bernabeu, originally from Tibi, who in his childhood had been an altar boy in Onil and who certainly must have hidden himself in the church after mass, stole the golden viril, the inside of which contained the sacred form together with other objects of value.
When he reached the nearby town of Tibi, he hid it quickly, running to do so in the spot known as the Volta Blanca.
Afterwards, believing that that was not the best place, he hid it in La Pedrera, also in the municipal district of Tibi.
Then, when he believed it to be well hidden, he went to Alicante to sell various pieces. There in the Amérigo silversmith's, the shopkeeper realised that he wanted to sell a piece stolen from the church of Onil.

Nicolás Bernabeu was arrested and imprisoned in the jail of the Palace-Fortress in Onil.
After the incessant and untiring search for the Sagrada Forma on the part of the Onil townsfolk around surrounding towns, at last on 28th November 1824, Teresa Carbonell, a neighbour of Tibi, found the Sagrada Formain the spot known as La Pedrera in Tibi.
On 29th November 1824 the Sagrada Forma was returned to the town of Onil, where it was received with great festivity by all the townsfolk. More than a hundred years later on 28th November 1943, D. Guillermo Hijarrubia, the delegate of the Archbishop of Valencia, authenticated that the Sagrada Forma was still intact and uncorrupt. And thus it remains to this very day, known as the Sagrada Forma Incorrupta, Nostre Senyor Robat of Onil.

In the Iglesia Parroquial Santiago Apóstol de Onil (Onil Parochial Church of Saint James the Apostle) one can contemplate, during worshipping hours, the blessed stained glass windows illustrating the events leading to the discovery of the Sagrada Forma Incorrupta, Nostre Senyor Robat of Onil. In the present day 182 years have gone by since its being found...

The programme is completed with a pilgrimage (between Tibi, Castalla and Onil - this is the 7th year), cultural activities such as concerts, theatre, exhibitions and folkloric displays.
More information
Schedule
Día 25 de noviembre de 2018, Peregrinación Tibi-Castalla-Onil
día 28 de noviembre, festividad del Nostre Senyor Robat