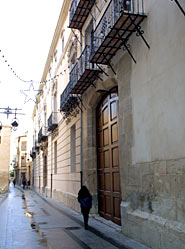 Casco antiguo

contact information
Step back in time as you wander through the age-old streets of Orihuela and discover plenty of history, culture and tradition along the way.
When you visit Orihuela, you simply can't help but fall in love with its historic centre bursting with beautiful monuments, churches and palaces. In 1969, the town's historic centre was declared an Historic and Artistic Conservation Area for the culture, history and tradition it contains. Orihuela is located at the foot of Monte de San Miguel and is traversed by the Segura river, making it a strategic defence point.
Orihuela paints a quaint picture with its colourful houses flanking the riverside. To start your exploration of the historic centre, we recommend you cross Viejo de Poniente bridge to jump into the maze of narrow streets and plazas sitting between the river and the mountain. Here you'll find buildings dating back to the 18th century and wonderful Medieval sights, including the cathedral, Las Santas Justa y Rufina parish church, Santiago parish church and more.
Orihuela is a wonderful tourist destination, combining sun, sea and sand with a historic town centre filled with treasures. You can see the wonders of La Granja palace or discover Miguel Hernández in Casa de Miguel Hernández. This house-come-museum is must-visit to find out more about the poet through photographs capturing different moments of his life.
Once you've finished soaking up all the culture and history of Orihuela, you can discover the local cuisine. Visit different restaurants to taste a variety of dishes created with locally sourced produce. A journey through the five senses.