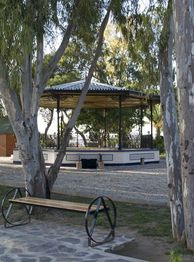 C/ Doña Sinforosa,
2

contact information
Gaze at shimmering views of the Medierranean as you wander around Parque de Doña Sinforosa in Torrevieja.
The seaside town of Torrevieja has plenty of unexpected sights to see and explore. One of these is Parque de Doña Sinforosa, a leafy park located just steps from El Acequión beach.
The park is inspired by Romanticism and is populated with a classic bandstand – where outdoor concerts are held – refreshing fountains, well-placed benches and many beautiful trees, namely eucalyptus, pine and palm.
Parque de Doña Sinforosa has an interesting story. Before it was a public garden, it was home to La casa de los Portales, a great 20th century building set on the seafront. The house had a number of different owners, but the most famous was Doña Sinforosa, who the park is named after. Sinforosa was known for her kind nature and it is said that she would always let children explore her beautiful garden. There were so many different species of plants and trees in the grounds that it was listed a site of ecological and scientific interest.
Nowadays the park is a little haven of tranquillity sitting next to the beach. Come and have a wander around to see how the verdancy of the plants blends with the golden sands of the beach. A treat for the eyes.