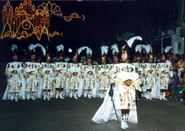 The Villena Festival of Moors and Christians is a joyful eclosion of colours, of celebration, of music, which fills the streets of our city during five days, and a multitudinary representation of several thousands of people that dress up as Moors, students, warriors, farm workers...

This festival is dedicated to the Patron Saint of the City, the Virgin of Virtues, who, according to the legend, miraculously manifested herself towards the end of the XV century in a beautiful spot near the town where today there is a sanctuary that is used to house her statue.

The Festival is held from the 5th to the 9th of September and it is structured around the participation of fourteen Comparsas, or groups, seven of which belong to the Moorish band, and another equal number belonging to the Christian band.

Each one of these comparsas is made up of several hundred participants of both sexes. The festival goes back almost two centuries, and is one of the most famous, spectacular and participative of the many that are celebrated in the country.
More information
Schedule
Se realizan en torno al día 8 de septiembre, Nuestra Señora de las Virtudes.
Type of interest
National tourist interest