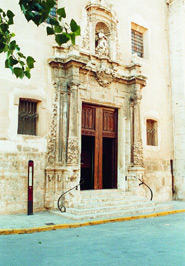 Plaza de Santa María. 03400

contact information
Built over the old Moorish mosque in the XVI century, it became the Church of El Rabal. It has only one nave, which appears to become three because of the perforation of the interior buttresses. Its polygonal head has no ambulatory, and the vaults, cross-ribbed, come down onto pillars with attached semi-columns with Renaissance engraved relief. The Renaissance is also present in one of the interior doors which give off into the sacristy, one more element of this style which has rooted itself in our city. The façade is framed by a Baroque portico, while the tower can be compared to the one in Santiago.
More information
Price
Schedule
Mañanas: Lunes a viernes: 8h a 13h. Sábados, domingos y festivos: 9h a 13h. Tardes: Lunes, martes, miércoles, viernes y sábados: de 17 a 21h Jueves: de 18:30 a 20h.