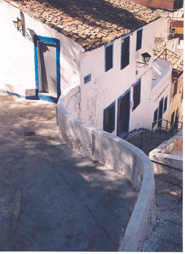 Casco antiguo alrededor del castillo.
03400

contact information
Discover Villena's past as you wander through its beautiful historic centre defined by the castle, Modernist buildings and many sundials.
The town of Villena dates back to its castle, around which an Arab settlement started to grow. The historic centre of the town will take you back in time to discover the past of this warm and welcoming destination.
Villena was built around what is currently Santa María church and formerly a mosque. Over time, the Christian town emerged close to what is now Santiago church. In the 18th century, the town was constructed up the hillside with the impressive keep of the castle on the summit.
The historic centre will immerse you in a world of wonder. If you're interested in artistry and architecture, you could take a Modernist tour of the town, which will show you some stunning buildings dating back to the late 19th and early 20th centuries, such as Comparsa de Labradores, Casa Rocher and Palacio Selva.
The town is also well-known for its sundials. Wherever you look in Villena you will see diverse and beautiful dials that showcase the wealth of the town in the past.
Take your time to wander through the streets of the historic centre of Villena and fall in love with everything you see.