Fortified farmhouse of St. Anthony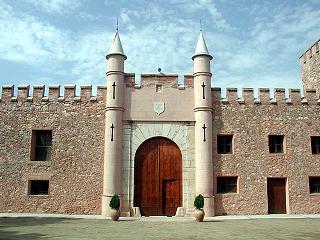 Camino de San Juan s/n. 
12410

contact information
If you're looking for a truly unique place to stay, Masía de San Juan is it: a great fortified farmhouse that looks like a Medieval castle.
Masía de San Juan is a fortified farmhouse that is located close to Altura, a town in the province of Castellón. The building is listed a Site of Cultural Interest and is currently a country property available for let. The perfect choice if you're looking for a rental steeped in history.
The origins of the farmhouse date back to the Middle Ages when Sierra Calderona was often subjected to military attacks. At this time, fortified farmhouses were built to serve as a place of refuge for the farming community who sought to defend themselves and their crops. Though it might look like a Medieval castle, Masía de San Juan was actually built by the Moors. Over the years, it has gradually acquired the feaures that give it its current appearance.
The building comprises a walled enceinte protecting the property inside. The farmhouse has a square plan, is built from stone and has circular turrets on its corners and no crenels. The imposing structure is surrounded by pine trees.
Masía fortificada de San Juan has been renovated and converted into tourist accommodation. Sitting in a peaceful area of natural beauty, the farmhouse has been divided into fifteen self-contained properties that overlook a central patio where there is a pool and children's playground. If you're looking for accommodation for a family getaway in an historic destination that is swept up in nature, the fortified farmhouse is for you.