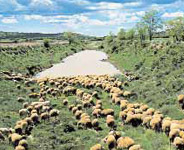 Around 1907, a steam train began to travel this route, transporting iron ore between the mines of Ojos Negros in Teruel and El Puerto de Sagunto port. There were about 106 miles of track, with 14 tunnels and 37 impressive viaducts. The most spectacular is the Fuensanta viaduct in Caudiel. In 1972, the steam train ceased its old- fashioned smoky journeys through the narrow tunnels.

In 2002, the old stretch of track between Barracas and Torre Torre became a greenway or vía verde. Soon it will continue on towards Sagunt and Valencia. One of the delights of this lovely part of the Mediterranean coast is to be able to descend the natural stairway of El Puerto del Ragudo through a series of tunnels that are incredibly steep considering that they used to be travelled by steam trains. You don't even have to pedal!

The entire route is a haven of nature. The greenway picks up the route of the River Palancia, which gives its name to the region of the same name.You can leave the train tracks to enter into the foothills of the two Mediterranean mountain ranges that are currently protected by their status as a nature park.
#CHARACTERISTICS
Route
From Barracas to Sagunt, via Caudiel, Jérica, Navajas, Altura, Segorbe, Soneja, Sot de Ferrer, Algar de Palancia, Alfara de Algimia, Algimia de Alfara, Torres Torres, Estivella, Albalat dels Tarongers, Gilet and Petrés
Map