Saltapins Adventure Circuit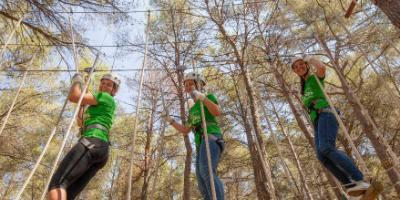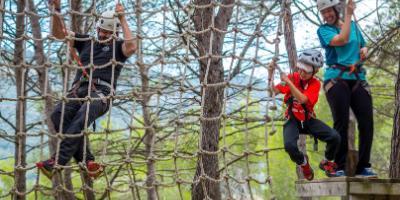 Circuito de Aventura Saltapins
Saltapins Adventure Park is located in the forest area in the Fábrica Giner tourist center. It is a space for leisure and active entertainment, where participants have to go through bridges and zip lines suspended high in the trees using cables and wooden platforms. The park has 4 circuits identified with colors, with increasing difficulty: the green circuit is the simplest and the red circuit is the most difficult one.
The height of the platforms is between 2 and 17 m. The adventure circuits are, therefore, a set of activities related to the mountain and nature in general, developing aptitudes as positive as: balance, confidence, strength, etc.

Saltapins Adventure Park is open every weekend of the year depending on weather conditions.
# Other services
24.0 €
Combined activities: Saltapins + Street Escape Fábrica giner