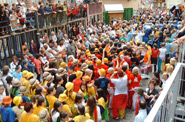 Fira d'Onda is an excuse for celebration. Tradition, festivities and culture come together in a spectacle that speaks of the essence of the province of Castellón.
The industrial collides with history and tradition in Onda, a town located in the province of Castellón. If you are keen to experience a slice of the destination's most authentic customs, plan your getaway for the final week of October to coincide with its local festival: Fira d'Onda.
During the last week of October, and the preceding weekend, Onda celebrates its fiestas patronales, patron saint festival, in honour of Santísimo Salvador, Virgen de la Esperanza and San Roque. A sense of excitement can be felt on the streets thanks to the many events organised for all ages, ranging from parades and activities to workshops, concerts and other forms of entertainment.
Two events on the programme attract the most attention among locals and visitors. Procesión del Domingo de Feria is a procession in which the devout walk to Plaza del Raval, where they sing a hymn to Santísimo Salvador. A moment of religious devotion.
The bull events are also extremely popular, specifically the running of the bulls. The event involves racing through the streets of the town in front of a group of bulls. Can you imagine how your adrenaline must pound as you hear the bulls thundering behind you?
Make sure you take time during your stay in Onda to see all the local sights. Savour the regional cuisine, soak up the culture in the museums and beyond and take walks in the surrounding landscapes. Onda truly is a wonderful place to discover the heart of the Region of Valencia.
*Please confirm event times and dates have not changed.
More information
Schedule
Última semana completa de octubre y el fin de semana anterior a esta