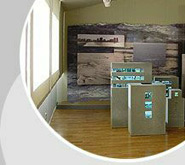 Plaza de la Iglesia, (Casco antiguo)
6
12594

contact information
More information
Schedule
REST OF THE YEAR
Monday from 10:00 to 14:00 h
Tuesday to Saturday from 10:00 to 14:00 and from 16:00 to 19:00 h


SUMMER (1 July to 31 August)
Monday to Saturday from 10:30 to 14:00 and from 18:00 to 21:00h

Located in the heart of the Old Town of Oropesa del Mar, it aims to disseminate and value the local historical heritage, in a dynamic space of knowledge and reflection.
Oropesa del Mar has a strategic location between the old communication pass and the Mediterranean Sea, which has conditioned its history and architecture: watchtowers, castle, fortifications,... constructions that were part in the past of an extensive network of great heritage value, which has come to our days as a testimony to the different attacks suffered by the population over the centuries, some of them by well-known historical figures, such as Barbarossa, a pirate much feared in the Middle Ages, or Marshal Suchet, official of the Napoleonic wars of the nineteenth century.
The visitor will be able to know through models, audiovisual and archaeological remains the history of Oropesa del Mar, and to establish links with the past of the town, its identity and its roots.