The parish collection in Villahermosa del Río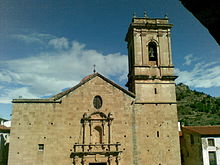 Plaza la Iglesia
s/n
12124

contact information
If you're in the mood for some art during your time in Villahermosa del Río, take a look at the parish collection in Nuestra Señora de la Natividad church.
Villahermosa del Río is located in El Alto Mijares in the province of Castellón. Nestled among valleys and mountains, the small village is a wonderful escape from the city where you can wander picturesque streets until you come across Nuestra Señora de la Natividad parish church.
The place of worship houses a collection of religious art that dates to the final third of the 14th and 15th centuries. Most of the pieces in the collection are Gothic altarpieces. These priceless pieces are defined by symmetrical composition, meticulous detail and intense colours. The gold backgrounds are another defining feature of the altarpieces, particularly evident in Retablo de los Gozos de María.
Comprising three vertical sections and three horizontal panels, the altarpiece depicts Virgen de la Leche, the Assumption, the expulsion of Adam and Eve from heaven, the Nativity and the Resurrection. The collection also comprises the remains of an altarpiece dealing with the topic of the afterlife.
Beyond the altarpieces, this parish collection comprises liturgical and artistic pieces, namely: sculptures such as the 14th century Gothic piece depicting San Bartolomé; a Renaissance chalice; and a 16th century embroidered cape and chasuble. If you're interested in religious art and historic heritage, make your way to this collection in Villahermosa del Río.