Fiestas del Cristo del Perdón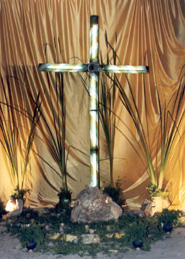 Come to Chulilla to marvel at the beautiful crosses adorning the streets and enjoy all the other festivities.
Fiestas del Cristo del Perdón in Chulilla is the perfect excuse to head to this popular hiking and outdoorsy destination. Held in September, the event is also known as Fiesta de las Cruces (Festival of the Crosses) as crosses decorated by the locals are set up throughout the village.
Plantà, which is the moment in which the crosses are positioned in the streets, marks the start of the festivities. From then on, you can expect a succession of fun street parties, community dinners and firework displays as well as more solemn events such as Triduo al Cristo, a procession that fills the historic centre with an ambiance of religious devotion. Visit all the crosses and wait to find out which one is crowned winner. We hope to see you there.
More information
Schedule
Fin de semana más próximo al 15 de septiembre