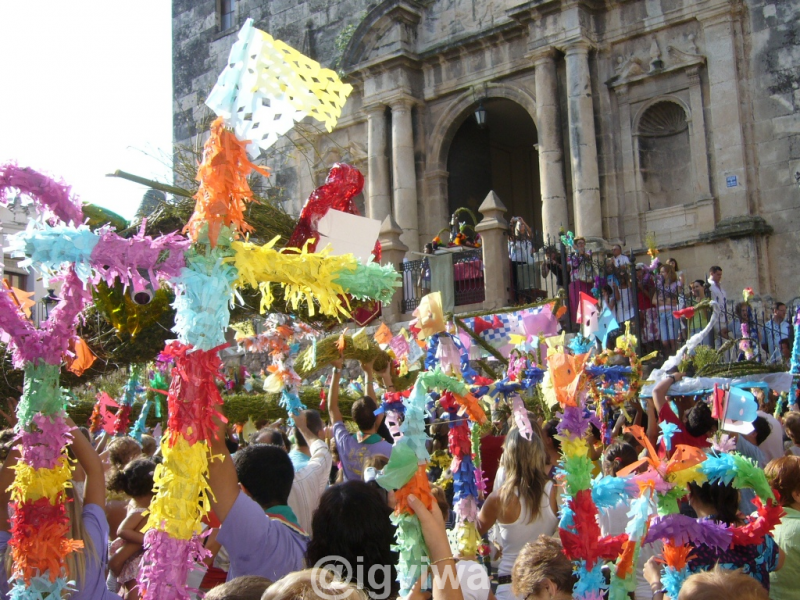 It is said to be one of the most extraordinary festivals in the world. Discover everything that goes on at Fiesta de San Gil.
On the first weekend of September, the aroma of fennel floats through the streets of Enguera, announcing the arrival of the town's festival of regional interest, Fiesta de San Gil. The celebration revolves around the smallest members of the local community. Over 1,000 children, with their families, head out into the fields to pick fennel, which is then used to make sangiles. These sculptures made from the plant take a wide variety of shapes and sizes, from long lines to crosses, figures and much more. There is a competition for the best sangiles, with prizes awarded to the longest and the most creative.
In Plaza de la Iglesia the children bless their sangiles and then carry them to the convent. Meanwhile, the town runs a jampacked programme of events and activities, namely award ceremonies, workshops and games. There is also a fair and lace-making in the streets.
The festival dates back to 1862 when the magazine El Museo Universal printed a shot showing the event attended by a great deal of people.
This year, Fiesta de San Gil will take place on the 31 August and the 1 September. On the first day, you can enjoy a chess championship, kids' workshops, the Eucarist of San Gil and the lantern parade. While on the second day, there is the 9th edition of the lace-making event, the blessing of the sangiles, the parade to the convent, a guided tour of the town, kids' workshops and, to conclude, an award ceremony complete with globotá, an incredible structure made from balloons. Make sure you don't miss out on all the fun!
*Please confirm event times and dates have not changed.
More information
Schedule
first weekend of September
Type of interest
Autonomous tourist interest