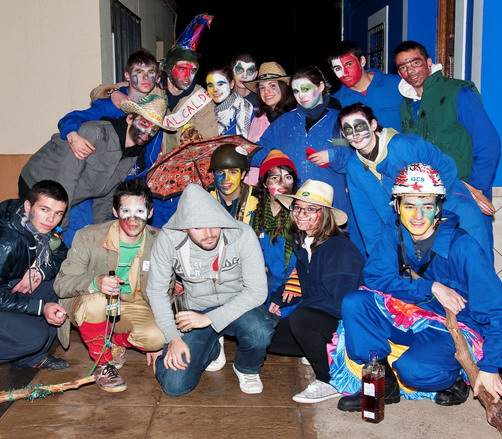 On December 28, Day of the Holy Innocents, a fools day is celebrated in Jalance every year. This festivity of the town dates back to the early seventeenth century, when its existence was already recorded through the parish books, although it is assumed it is older due to the rise and importance which then had.

To start the, a "major" of the fools is appointed. The fools are represented by the "fifth". The name "fifth" comes from the old way to select the young men who would be called every year for military service (a fifth of the population). Currently, they are the young people who turn 18 on that year and keep alive the tradition.

The feast starts early in the morning, making noise in the streets. Then, they head to the Town Hall, where the town's control rod is delivered by the mayor of Jalance in person. The village will be governed from this moment by the new fictional mayor appointed by the fools for 24 hours. Fools take to the streets, accompanied by members of the Music Band, all decked out in outlandish costumes and painted face. Knock on the doors of houses to solicit input for the feast, climb to the balconies to dance with women, get people out of bars to the street, stop cars to get the occupants off and make them dance with anyone, paint your face... and if you give them money they do anything you ask.

This festival is lived on the streets throughout the day until late at night, when it continues with a great open-air ball. During the course of the evening, people pay the fools to make up crazy dance couples: separated couples, bachelors, people who do not talk to each other, those who never danced, friends of shy boys pay so that he dances with the girl he likes... They are also paid so that they get people on the street... Anything one can think of shall be done, this way spending a particular night of fun.
More information
Schedule
Festividad de los Santos Inocentes