Poblat Ibèric De La Montravana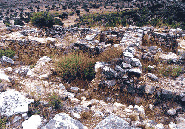 Not too big, this Iberian settlement is geographically located on the first row of settlements surrounding Edeta, on whom they were politically and administratively dependent. Despite the passage of time, one can still see that this was a town surrounded by walls, with two entries. Excavators have discovered ceramic shards, iron tools and several animal bones. política y administrativamente.

Pese al paso del tiempo todavía se puede observar cómo éste fue un poblado amurallado, con dos entradas. Las excavaciones efectuadas han desvelado la existencia de piezas de cerámica, utensilios de hierro y varios huesos de animales.
More information
Schedule
concertar visita