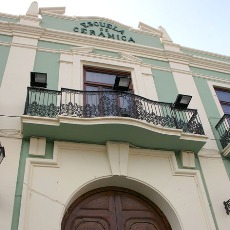 Paseo Guillermo de Osma, 3
This building is a historical and cultural reference point in the city for its architectural quality and due to the fact that for many years it was home to one of the two schools of ceramics that existed in Spain.

A pioneer in its field, the beginnings of the School of Ceramics of Manises goes back to 1896, the year of the foundation of the School of Drawing, through the initiative of the engineer Rafael Valls David, and directed by Luis Soria, and which offered classes to groups of men and women. Thus, in the development of this centre of education, which was fundamental for the expanding local industry of the time, another engineer, Vicente Vilar David, played a an important role, leading a reduced number of entrepreneurs in forming the activity of the Elemental School of Ceramics in 1914. The school was recognized in 1916 as an official centre of education by the Spanish State, with the name of the Practical School of Ceramics; and from that time this centre has decisively contributed towards training in this industrial sector, providing a multitude of professionals not only for Manises, but for the whole of Spain.

The building is situated in the Paseo Guillermo de Osma, a main street in the suburban development of Manises, whose urbanization is closely linked to the creation of the railway line from Valencia to Liria, as in the vicinity one finds the Manises train station which was opened in 1889, and which is today the metro station of the town.

The school was built between 1918 and 1925, and remodeled in 1950 by the architect Javier Goerlich and directed by Alfonso Blat. Together with the cloister, which incorporates in its centre a small contemporary fountain with a ceramic finish, of especial interest is the composition of the façade in the neo-classical style that is preeminent in the whole structure.

Of notable interest is a plaque that, in memory of the historian Guillermo de Osma, was placed in 1925 on the right side of the main door. It is a large relief plaque which displays the image of the historian in the form of a painted portrait by Arturo Almar, and symbolic representations of the labor of Osma in the study of the most exceptional ceramic work in Manises of all times: the gothic/Muslim crockery decorated in blue with metallic reflections.

Currently, the teaching of ceramics has a university status and is imparted in a modern building situated in the Avenue Ceramista Alfons Blat, in the West of the town.