The House of Culture and Youth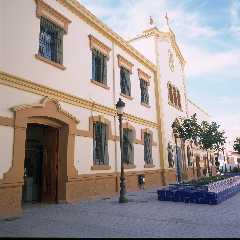 Calle Mayor, 91

contact information
The House of Culture and Youth (Casa de Cultura y Juventud) is a building that dates from 1928. Initially it was a convent of the religious Congregation of the Carmelitas. It is a two-storey, neo-gothic style building, that possess an interesting cloister with period tiled paneling and a well proportioned chapel with an arched dome, which is now used as an auditorium and conference room.

This building is currently the central office of the Municipal Foundation for Culture and Youth, an autonomous organism of Manises Town Council which manages the House of Culture, the Germanies Auditorium, the Municipal Public Libraries, the Centre for youth information and the Municipal Radio of Manises.

In the exterior and surrounding the building we find the Garden El Boscany, a garden that is notable for its decorative walls. A series of ceramic panels have been installed that represent children's games. These decorations are the produce of the workshop of Manises craftsman Gimeno Ríos and were made in 2003. The murals are reproductions of those that have perished but were previously displayed in the Plaza de España in Manises. The panels present scenes of traditional Valencian games, a theme that is in harmony with the park's function. Among the Valencian games that are represented are el canut, el joc del burro, la pilota a llargues, el pet i tou, el marro furtat, pelant panolles...