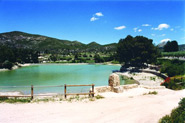 El embalse del Bosquet, accesible a través de la carretera dirección a Ontinyent a través de la Serra Grossa.

contact information
Soak up the beautiful natural landscape and enjoy stunning views over El Bosquet reservoir in Mogente.
Mogente is home to a beautiful artificial lake known as Embalse del Bosquet or El Bosquet reservoir. Built in 1770, the lake was a hydraulic engineering project promoted by Pasqual Caro.
When it was built, El Bosquet reservoir had one sole purpose: to retain the water of the local rivers and springs such as to provide enough water to supply the agricultural land and make the wheels of the water mills turn. The small canals transporting the water to the local arable land are an important part of the structure.
Declared a Site of Cultural Interest, the reservoir will treat you to some impressive views over the beautiful surroundings. Immersed in a landscape of verdant pine trees and centenarian holm oaks, here you can spend lazy days swimming in the waters and doing some fishing.
El Bosquet reservoir in Mogente is a beautiful natural sight that is well worth a visit.
More information
Schedule
puede ser visitado todo el año y se encuentra especialmente bello en primavera.