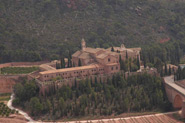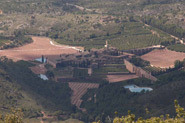 Carretera de Porta Coeli s/n

contact information
Discover a monastery that has stood in Serra since the 13th century. From the outside you will be captivated by its imposing appearance.
La Cartuja de Portacoeli or Carthusian Portacoeli is located in the centre of the Lullén Valley, near the recreational areas of the Lucas plain. Although you can't visit the inside right now, you can approach the area by the CV-328 and observe from the outside this sample of heritage with its gothic aqueduct from the 15th century. Afterwards, we encourage you to take the family to a picnic area and enjoy the views. The province of Valencia never disappoints.
This is the first monastery of the Carthusian religious order and was founded in 1272. The history of the Carthusian monastery is most interesting: it was built on the site of an Andalusian settlement that was acquired by Andreu Albalat, the founder of the monastery.
The architectural style was originally Gothic, but over the course of time the alterations added elements from different periods. Renaissance, mannerism, baroque and neoclassical: a mixture that gives it a special personality. If you like rural and natural tourism, this is the place for you!
The monastery is divided into two areas: the cloister and the obediences. The cloister contains many rooms: a church, sacristy, chapterhouse, chapels and a hostel, as well as the cloister of San Juan. In the lower part of the monastery there are vegetable gardens, courtyards, an oven and a wine cellar.
The silence and tranquillity of the area made the Carthusian monastery of Portacoeli an ideal place for spiritual retreat. Going to see it (as far as it is allowed) is a highly recommendable experience. Be happy with the peace and calm that Serra emanates.