Hogueras de San Sebastián (The Saint Sebastian bonfires)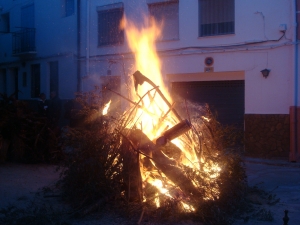 Celebrated in honour of San Sebastián, the patron saint of the town, this is the most important of all the fiestas held in the winter. It is held on 20th January and, after attending the Saint's Mass in the Parish Church of San Sebastián Mártir, the Town Council supplies all the townsfolk with the necessary ingredients for making a paella, which later on they will all eat together in the Town Hall Square in a companionable meal.
More information
Schedule
La festividad es el 20 de enero pero se suele celebrar durante el fin de semana.