Wingfoil and windsurf foil the latest trendy nautic sport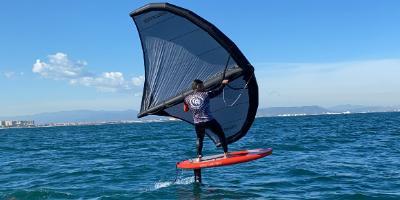 Enjoy the latest water sport in our coasts. Wingfoil and windsurf foil are now available in Valencia
Wingfoil its a new trendy sport with an amazing visual impact none the less you will be flying over the water. At Ocean Republik we going to put all our experience in order to make you learn fast, safe and fun .First step will be to control the wing with a stable board, then we will learn how to fly the foil tow by a boat, and then we will paste both learnings to make you fly on the air just using the wind force.
NCLUDES: Instructor, material, Essential lifejacket and helmet, accessories according to time of year
DURATION: 2H
LANGUAGES: Cas / English / Italian