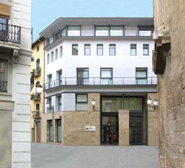 Plaza Virgen de la Paz, 3 (junto a la iglesia de Santa Catalina)
46001

contact information
The headquarters of the Fundación Universidad-Empresa de la Universitat de Valencia (ADEIT) is located in the historical centre of Valencia. It is situated close to singular buildings and monuments such as the church of Santa Catalina, the Lonja, and the Mercado Central. It was conceived as a meeting space by the society for the organisation and celebration of congresses, conventions, seminars, press conferences, work meetings and training courses.

The Fundación Universidad-Empresa relies on more than 5.000 square meters of facilities including an assembly room, the 'salón de grados', a semicircular theatre, 22 rooms, two computer science classrooms, and open air spaces. These spaces are equipped with the most advanced technical resources for the celebration of any event.