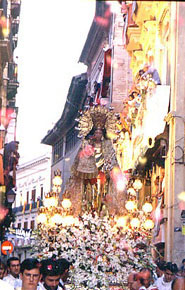 On the second Sunday of May Valencia celebrates the feast of the Virgen de los Desamparados, the Patron Saint of the city. There is great devotion for this Virgin Mary, whom the Valencians affectionately call "La Geperudeta", alluding to the slightly curved or stooping position that she adopts. The statue that is currently used in the procession dates back to 1945, made by Carmelo Vicent and popularly known as La Peregrina (The Pilgrim).

On the eve of the feast, on Saturday evening, a concert, by the Valencia Municipal Band, takes place in the square known as the Plaza de la Virgen. Afterwards there is a fireworks display in the old riverbed of the River Turia. After this there is the Dança (Dance), a fragment of a popular indigenous dance, and the Nit d'Albaes, an evening of songs that are typical to the region. Around five o' clock in the morning the Misa Descuberta (an open-air mass) is held.

On Sunday at eight o' clock in the morning, at an altar that is installed in front of the Basílica de la Mare de Déu (The Mother of God Basilica), the façade of which is adorned with a tapestry of flowers, the Misa de Infantes (Children's Mass) is held. At 10:30am the Traslado (Transference) is proceeded with, in which the "Peregrina" (Pilgrim) statue is carried by the "followers" from the Basilica to the Cathedral through the Puerta de los Hierros (The Gate of Irons). This act is very famous and the Virgin Mary, amidst cries of "viva" ("long live") and compliments, is carried through the air, passed from one to the other, until entering the Cathedral backwards (i.e. facing outwards towards the crowds).

At midday there is a mascletà (special firework display) and in the afternoon a procession is held in which the Virgin Mary is taken around the streets of the historic centre which are spread with thousands of petals from flowers.

On this date in the square known as Plaza de la Reina, a market of typical ceramic and clay objects, known as the l'escuraeta, is set up.
More information
Schedule
Segundo domingo de mayo