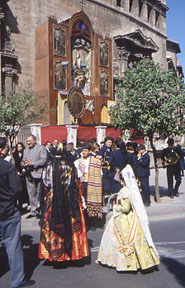 Prolonging Holy Week, altars are set up in streets and squares in Valencia commemorating the feast of San Vicente Ferrer, the patron saint of the Region canonised by the setabense Calixto III. It is customary to visit his house of birth, now converted into a chapel. There one finds "El Pouet de Sant Vicent" (Saint Vincent's Well), the water of which is given to children to drink "so that they speak early, don't suffer from tonsillitis, don't commit perjury and are not blasphemous".

Within these festivities groups of children perform, always in Valencian, the prodigious deeds attributed to the Dominican saint, the so-called "miracles". The performances are carried out at the fourteen altars that are erected in the different quarters of the city, always presided over by the statue of the patron saint. The oldest altar dates back to 1561 and each year it is set up next to the Pouet de Sant Vicent.

The Saint Vincent festivities begin on Saturday at midnight with the transfer of the statue to the altar. On Sunday the "miracles" take place and on Monday, the Feast Day, the Pontifical High Mass is held and the floral offering is made in the house of birth of San Vicente. In the afternoon a procession that travels around the Cathedral quarter and then the lowering of the statue from the alter take place.
More information
Schedule
Variable según calendario