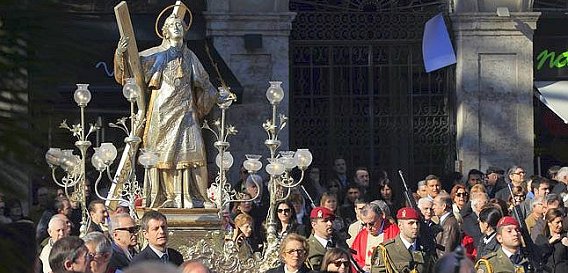 On 22nd January the Valencians celebrate their Patron Saint's Day. Vicente was a young deacon who was martyred in Valencia in the year 304 by the order of the Emperor Diocleciano, who awoke great fervour amongst the population. He was named the Patron Saint of the City and with the passing of time the events were extended in honour of the Martyr. As well as being the Patron Saint of Valencia, San Vicente Mártir is also the Patron Saint of the Guild of Tailors and Dressmakers.

On the morning of 2nd January the performance of the dolçainers precedes the celebration of a high mass in the Parish of San Vicente. At the end of this mass a general procession dedicated to the Saint begins, which travels round the places where, according to tradition, he was martyred.

On this date the baptism of San Vicente Ferrer, a great devotee of San Vicente Mártir, is also celebrated. This feast day is organised by the Real Asociación de la Pila Bautismal de San Vicente Ferrer (Royal Association of the Baptismal Font of San Vicente Ferrer) and every year it begins with the display of the statues of Sant Esteve (Saint Steven). The escorts are attired in dress of the epoch representing the characters that were at the baptism of San Vicente Ferrer: the priest, the sacristan, two juries and the major jury, the viceroy and the vicereine, black man and black woman, father, the midwife with the child, the godmother and six more ladies. Recently other characters have been incorporated.
More information
Schedule
Día 22, fiesta laboral local, únicamente en el término de la ciudad situado de cruces para dentro
Type of interest
Local tourist interest