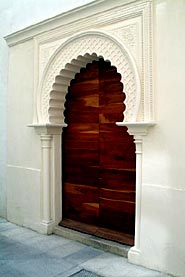 Almirante, , 3
46003

contact information
Baños del Almirante is a traditional Arab bath that speaks of València's artistry and history.
València city is replete with historic and cultural treasures, some of which are well-known, some of which are not. If you're interested in exploring one of the city's best-kept secrets, you simply have to make your way to Baños del Almirante: a traditional Arab bath, also known as a hammam.
The impressive building housing the baths dates back to the Christian Medieval period. Baños del Almirante is one of just a handful of baths in Spain that were used from their conception right up until the 20th century.
Built between 1313 and 1320, Baños del Almirante is characterised by its stunning architecture. The baths offer three different spaces where users could enjoy the beneficial properties of cold, lukewarm and hot waters. The bath area is complemented with Palacio de los Almirantes de Aragón, a Gothic palace defined by its central patio and first floor gallery with characteristic pointed windows.
Baños del Almirante is an Historic and Artistic Monument and a Site of Cultural Interest (since 1993). Come along to this treasured site to soak up the mesmerising artistry and long history of the Arab baths.
More information
Schedule
De martes a domingo, de 11.00 h a 14.00 h.