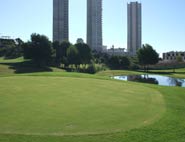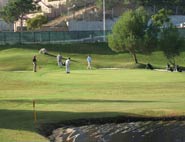 Calle Presidente Adolfo Suarez, 5 (detrás de la avenida Vicente Pérez Devesa y del Instituto Mediterrànea)
03502

contact information
Las Rejas Sol de Poniente is a new nine-hole par 3 golf course in a privileged location on Benidorm's Poniente beach, only a short distance from the town centre, with a superb design and panoramic, almost idyllic, views.
The course's practically perfect facilities allow for a quick and comfortable game, while adding degrees of difficulty to challenge your level of play. Posting a good card on this course is far from simple, and a good strategy is essential: play a risky game from the outset, or take your chances at key moments, when the pin is within reach.

The greens range from receptive to ones with a glass-like surface, where the ball zips through and can end up out of control unless struck with accuracy and care.
More information
Schedule
Horario de invierno: de lunes a domingo, de 09.00 a 18.00 h. Horario de verano: de lunes a domingo, de 09.00 a 20.30 h (o hasta la caída del sol)
How to get
Take the AP-7 motorway,exit 65. From N-332 exit Terra Mítica. Continue towards Playa Poniente.
#CHARACTERISTICS
Course designer
Ramón Espinosa