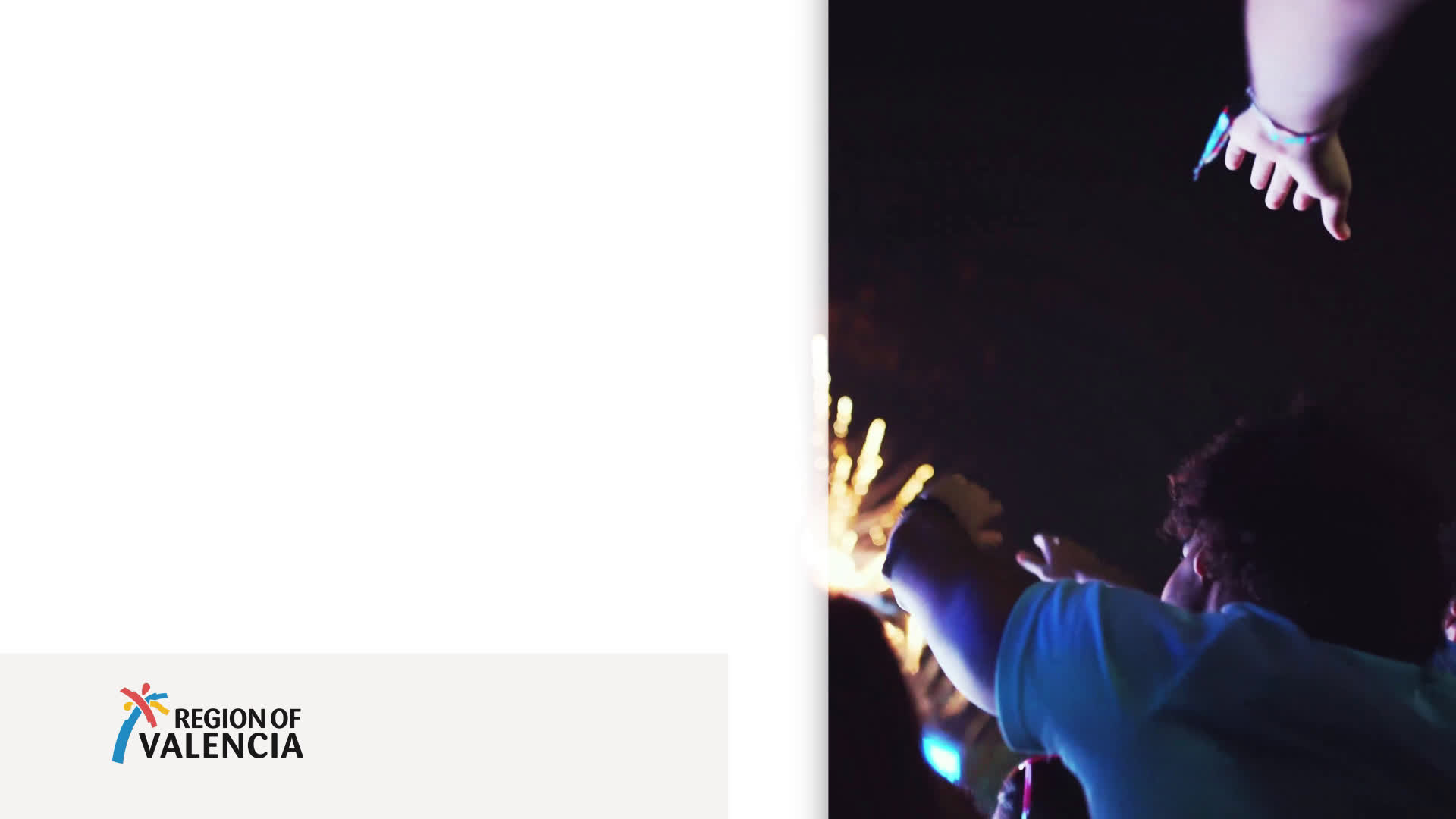 Musical, explosive and always entertaining, the festivals taking place in the Region of Valencia provide a unique insight into local customs and traditions.

The festivals - known as fiestas in Spanish - taking place up and down the Region of Valencia are the perfect opportunity to experience age-old traditions, local music and beautiful artisanship as well as enjoy a festive atmosphere and tasty dishes. From Fiestas de la Magdalena to Fallas de València and Hogueras de San Juan, the three provinces comprising the region - Castellón, Valencia and Alicante - host great festivities and small celebrations that you won't want to miss. In this post, we'll introduce you to a small selection of just some of the festivals that you can experience in our destination.
Festivals in the province of Castellón
Held in Castelló de la Plana, Fiestas de la Magdalena is a mix-match of illuminated floats, incredible processions, delicious rollos, traditional pilgrimages (Romería de les Canyes) and an emotional final parade (Magdalena Vítol). All set to the sight and sound of music and fireworks. This large-scale event takes over the city for over a week, promising an experience you'll never forget.
Carnaval de Vinaròs is another vibrant celebration held in the province. Carnival brings thousands of performers to the street, filling the town with glitter, colour and music. Come along to see what the local carnival associations have put together this year.
Sexenni de Morella is a must-attend event held every six years in the hilltop town of Morella. In preparation for the festivities, the locals make crepe paper decorations that are then used to deck the streets.
And then there is Fiestas Patronales de Segorbe, which is perhaps best known for Entrada de Toros y Caballos, a bull run. The event has been taking place since the 14th century and has been listed an Event of International Tourist Interest.
Festivals in the province of Valencia
Fallas is arguably the best known festival in the whole of the Region. The explosive celebration is held in València city as well as other towns in the province, such as Alzira. For the first few weeks of March, the streets burst into life in a haze of firecrackers, fireworks and band music. Named Intangible Cultural Heritage by UNESCO, the event envelops you as soon as you step outside with great ephemeral sculptures, firecracker displays that reverberate through your whole body, buñuelos de calabaza (deep-fried pumpkin doughnut) stands and more. The festivities come to a head on San José day when the sculptures are burnt.
Another internationally renowned festival is Tomatina de Buñol. Essentially a huge tomato-throwing fest, this messy event leaves the streets running red with tomato juice. It's held on the last Wednesday of August. Don't forget to bring goggles to protect your eyes!
Festa de les Alfàbegues is also well worth experiencing. Held in Bétera, the event involves a parade featuring huge basil plants that fill the streets with an aromatic scent. There's also plenty of traditional dress and cordaes, fiery pyrotechnic displays.
Festivals in the province of Alicante
The province of Alicante also has plenty of festivals to put on your to-experience list. Alcoy's Fiestas de Moros y Cristianos, for instance, is an incredible spectacle that enacts events from the 13th century. Hogueras de San Juan in Alicante, meanwhile, marks the start of summer with a combination of gunpowder, fire and art that will stay with you forever.
And then there's Carnaval de Pego, which includes a silly boat race down the river, and Semana Santa de Orihuela, where the town's monumental buildings meet religious devotion, gastronomy and music, creating beautiful and at times solemn events. As you can see, the Region of Valencia is full of festivals that are crying out to be experienced. Which one will you come and live first?
Festivals of Interest to Tourists
Find
Name
Province
Alacant/Alicante
Castelló/Castellón
València
Municipalities
Types
Moors and Christians
Religious
Pilgrimages
Saint Days
Popular
Bullfighting
Street parties
Local parties
Begin Date
Completion Date
Be inspired
The provinces of Alicante, Castellón and Valencia are famed for their festive traditions. Discover how the locals celebrate Christmas and experience these magical moments during your getaway.
Discover and live all the family-friendly activities that await and make your trip to the Region of Valencia the adventure of the year.