What to see in València in three days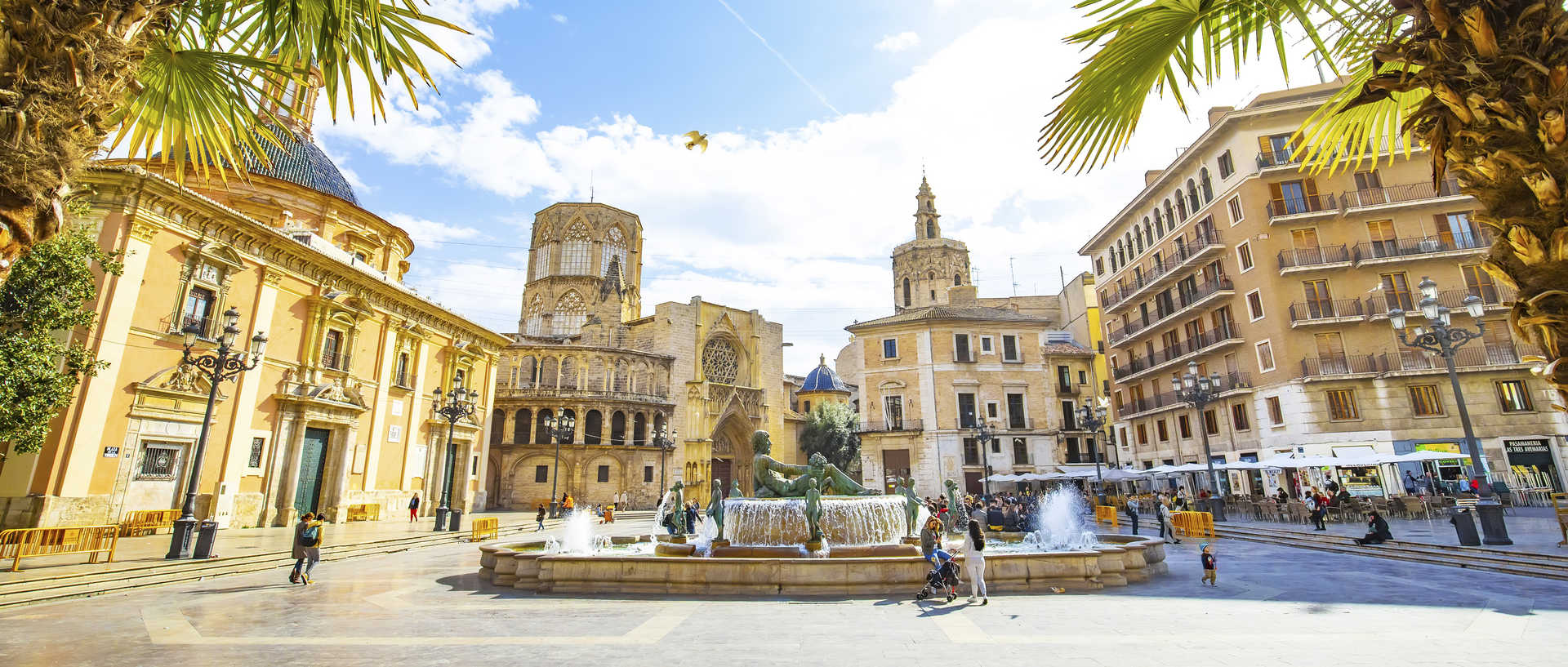 Make the most out of your time in the capital of the province with this three-day itinerary. Discover the very best of València city.
València is a city that is yearning to show you its treasures. And what better way to make sure you don't miss out on anything than to carefully plan your getaway? Steeped in history and culture, the capital of the province is a sight to be seen, whichever way you look. If you're taking a long weekend in the city, keep reading to discover how to make the most out of your time.
València in three days
Day 1: historic centre
The city's historic centre comprises the lion's share of this itinerary. There is so much to see here that you will want to invest a whole day of your trip to exploring it, at least. At every corner there is something to stop and admire: architecturally beautiful buildings, historic sites and religious monuments. All of which will transport you back in time.
A good place to start your exploration is at a building that holds great significance for locals.
Catedral de València is an architectural icon of the city. Though it flaunts a spectacular exterior, its greatest treasure arguably lies within. Capilla del Santo Cáliz (Chapel of the Holy Chalice) is said to hold the Holy Grail, one of the most revered objects in Christianity.
You can gaze at the beauty of the cathedral and the surrounding historic buildings from Plaza de la Reina and Plaza de la Virgen. For a bird's-eye view over this part of the city, you can climb up the 207 steps of Miguelete, the cathedral bell tower.
Next, we recommend strolling along calle Caballeros until you reach San Nicolás de Bari y San Pedro parish church, which is also known as Valencia's Sistine Chapel. Combining the Gothic and Baroque styles, the church is an artistic masterpiece that will take your breath away. Take your time to gaze at the ornate frescoes decorating the ceilings.
Lonja de la Seda, or the silk market, is another must-visit. A beautiful example of civil Gothic architecture (designed by Pere Compte), its walls conceal València's long and prosperous history in the silk industry. Inside you can visit Museo de la Lonja, a museum displaying various looms and a large textile collection.
Just outside the silk market, you will see another quintessentially Valencian architectural style: Modernism. Mercado Central, the central market, will capture your attention from afar, something that can't be said of most markets. As soon as you step inside, you will be immersed in a world dedicated to local produce.
No tour of the historic centre is complete without a stroll around El Carmen. Fusing history and modernity, this district is bursting with bars, restaurants, theatres and the most extraordinary street art. When you need a break, sit down to enjoy a glass of vermut.
Day 2: Ciutat de les Arts i les Ciències, the beach and the Marina
Your first day in València focused on the past, and your second will look towards the future. The Ciutat de les Arts i les Ciències (City of Arts and Sciences) is a collection of large-scale futuristic buildings divided by pools of water, designed by architect Santiago Calatrava. The unusual silhouettes of the constructions are now an iconic part of the city skyline.
There is plenty to keep you busy here. Museu de les Ciències (the Science Museum) is an interactive space that will get you excited by how our world works. Oceanogràfic is an aquarium that is home to dolphins, sharks and other Mediterranean marine species. And Hemisfèric is an IMAX cinema where you can watch screenings in 3D.
In the afternoon, make your way to the city beaches, such as La Malvarrosa, in the Cabanyal district, to unwind on the soft sand. We also recommend taking a stroll along the Marina de València so you can feel the tranquillity of the calm seas instil itself within you.
Day 3: Albufera natural park
For your final day in València, make your way to the Albufera natural park. Lying just 10km outside the city, the beauty spot is known for its rice cultivation. Discover the local traditions and take an unforgettable boat ride across the waters of the coastal lagoon to breathe in vistas of the distinctive plant and wildlife.
And it goes without saying that you should take the time to savour some traditional dishes. All i pebre (garlic and pepper), arroz con anguila (rice with eel) and paella valenciana are all worth trying. Not only is this nature reserve absolutely stunning, it will also show you another side of València.
València in a day
If you've only got a day to explore València, not to worry. We've got some tips for how to make the most out of your time in the city. One thing though: we recommend getting up early to give you time to see and do everything you want to.
Time might be on the short side, but a visit to the historic centre is a must. As you stroll the pretty streets you will come across the city's most impressive sights and points of interest. If you get tired of walking, there are options: you can explore the city on two wheels using the shared bike service, Valenbisi, or hop on a segway or horse and carriage. Once you've seen the old town, make your way to Jardín del Turia, the park situated in the former bed of the river Turia. Walk in the direction of the Ciutat de les Arts i les Ciències and visit the Science Museum, Oceanogràfic or Hemisfèric.
For lunch, a good choice is the coast where you can tuck into a paella or other typically Mediterranean dishes with the sea breeze running through your hair. Alternatively, you could go to Albufera natural park to enjoy a traditional lunch there. To end the day, take a sunset boat ride over the waters of the coastal lagoon. It doesn't get much better than this.
If you're planning a city break in València, this is the ultimate guide of things to do in three days. Explore, enjoy and come back time and again.