What to see in Benidorm in three days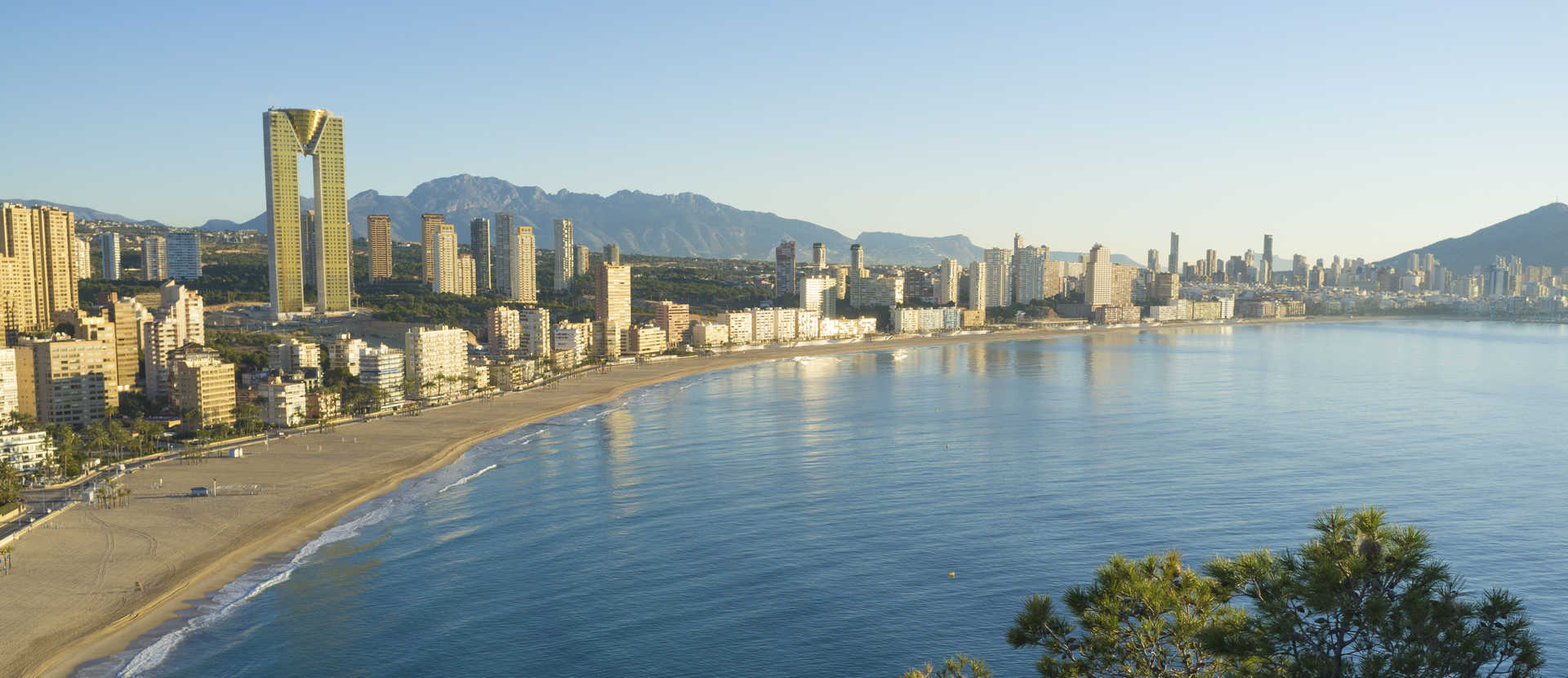 The high-rises that line the Benidorm coast have become a symbol of the Costa Blanca. With its beaches, historic centre and island, the popular holiday destination promises great times. Discover what to get up to during your stay with this three-day itinerary.
Located in the heart of Marina Baixa, Benidorm is a mix-match of contrasts. From the giddy heights of the high-rises to the wildest of pristine coves, this is a seaside destination like no other. With over 300 days of sunshine a year, there is plenty of time for pure enjoyment.
What to see in Benidorm in 3 days
Day 1: the historic centre and beaches
We recommend you start your exploration of Benidorm by delving into its past. Not so long ago, this popular tourist destination was a small fishing village whose air you can breathe in the historic centre. As you wander down narrow cobbled streets you will come across beautiful scenery such as Calle Mayor, Plaza de Canalejas and Plaza del Castillo. A journey back in time to Benidorm's great historic and cultural legacy.
When you reach Plaza de San Jaime, make sure you take the time to gaze at San Jaime Apóstol y Santa Ana church. Dating back to the 18th century, this beautiful place of worship is defined by its blue cupulas that shimmer in the sunlight.
Also worth stopping off at are some modern buildings, such as the council, which is said to be a horizontal - yes, horizontal - high-rise. Keep strolling until you reach Balcón del Mediterráneo, also known as Mirador del Castillo. This viewing point affords spectacular vistas over the town and its vast bay. The best time of day to enjoy the views is at sunset when the sky transforms into a blaze of technicolour.
And now, as you are in the Mediterranean after all, it is time to enjoy the beach. Benidorm has a number of beaches and coves that all offer something different. Try to experience as many as you can.
In the far north of the municipality there are two small sandy and pebbly coves sitting at the foot of Serra Gelada natural park. Tío Ximo cove and La Almadrava cove are the perfect places to unwind in a natural idyll and do some snorkelling. Another dreamy cove is Mal Pas, which is a diver's paradise.
If, instead, you are looking for a stretch of the coastline where you can do all sorts of activities, including water sports, Levante and Poniente beaches are for you. Connected by a seafront promenade, these popular spots have got everything you'll want and more. No matter what time of year you visit, you can enjoy these beaches until the sunsets, which is after 8pm in the summer months.
Day 2: Benidorm Island
On the second day of this itinerary you will discover a beautiful landscape floating in the sea. Benidorm Island lies just off the coast and offers plenty of wonders to see and explore.
Also known as "Journalist Island", this islet is just two miles from the beach. Though tiny, it offers no lack of stunning landscapes and fascinating wildlife. The world living under the sea is an absolute joy to explore. Moray eels and octopuses hide beneath the rocks as well as all sorts of other creatures. The island is one of the best diving spots in the world, so make sure you don't miss out on getting yourself into the water.
To get to Benidorm Island, you can hop onto one of the various boats that ferry visitors back and forth. The journey takes about 15 minutes. Once you step foot on the dry land of the island, you can start exploring, walking the different hiking routes, going for a swim or doing some snorkelling.
Though the island is uninhabited, there is one restaurant that serves up a Mediterranean menu. Make sure you come prepared for your trip: pack a hat, sun cream, swimming costume and sunglasses in your bag and get ready for an amazing day out.
Day 3: Amusement parks
Your third and final day is dedicated to fun and adventure. One of Benidorm's defining characteristics is that it has a large number of theme and amusement parks on its doorstep where you can enjoy an amazing day out with your friends and family.
There is no shortage of parks for you to choose from. Terra Mítica is a theme park that will immerse you in the ancient worlds of Egypt, Greece, Rome, Iberia and The Islands. There are attractions for all ages here. Whether you want to strap yourself into the most daredevil rides or enjoy incredible water attractions, your day out will be filled with excitement, laughter and a whole lot of fun.
Mundomar, on the other hand, will take you on an unforgettable journey into the animal world. You will see over 80 different creatures here, including the most fascinating mammals, birds and reptiles. The park also puts on a number of different shows, including dancing dolphins.
Terra Natura is another animal park that is home to over 1,500 different animals from all around the world. Based on the philosophy of zoo immersion, the park has no barriers so you can get up close to the animals. If you've always wanted to see the animal kingdom in its natural habitat, this is the park for you.
And then there are the water parks. There are two to choose from in Benidorm. Aqua Natura has hair-raising attractions such as Tornado, Cresta and many more. Over 40,000m2 of fun awaits here in the rides, activities and pools.
The second is the biggest water park in Europe. Aqualandia promises a day of pure thrills. With 17 slides, 10 kids' games, 12 pools and sky-high rides such as Big Bang, there is plenty to do from morning to night. An incredible day out in the Costa Blanca awaits.
What to see in Benidorm in 1 day
A three-day getaway offers you plenty of time to get to know what Benidorm is all about. However, if you've only got a day to explore this flagship destination in the Costa Blanca, here's what we recommend for your whistle stop tour.
Benidorm is all about the beach so make sure you spend some time on the shimmering coast. Choose the beach or cove that appeals to you the most and get up early to enjoy the serenity of the sea. Don't forget your snorkel to explore the beautiful waters and the seabed.
After a morning of sun, sea and sand, wander along the seafront promenade in search of a restaurant where you can have a bite to eat. In the afternoon, take the time to stroll through the historic centre. As you wander the pretty streets, stop to marvel at beautiful buildings. To bring this memorable day to a fitting close, watch the sunset over the sea and town from the viewing point, Balcón del Mediterráneo.
Benidorm is a fabulous destination all year round. No matter how many days you are spending on this slice of the Costa Blanca, you'll be sure to have an incredible time.
Fancy seeing a video of the itinerary?