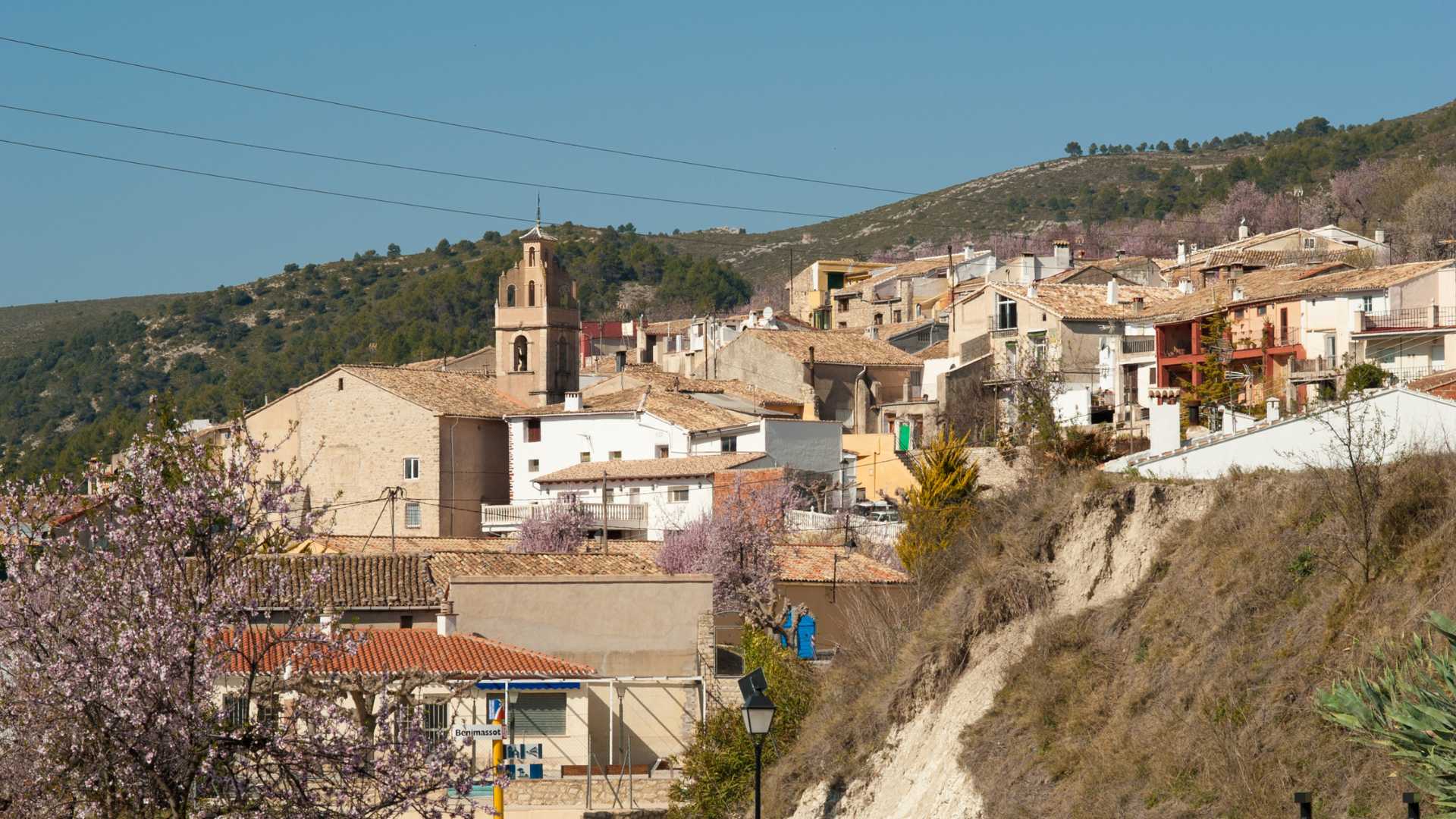 In the region of El Comtat, a village surrounded by incredible landscapes awaits you. Discover Benimassot, a cosy corner nestled in the Almudaina Mountain Range.

Did you know that Benimassot, in Alicante, is known as the Balcony of Serrella? It is so called because of its privileged location, which allows us to contemplate dream views of the Seta Valley. Come to this charming village, with its agricultural spirit, and enjoy everything it has to offer.

What to do and see in Benimassot



Strolling through Benimassot means discovering a village of Muslim origin where the streets are steep and narrow, many of them decorated with flowerpots, and the houses are painted white. The people of Benimassot are friendly and you are sure to find a local who will tell you incredible stories about the past of this corner of Alicante.

Follow the path up to 'El Calvario' and visit its fountains: Font del Raval, Font de Baix or Font de la Penya. You will find a balcony from where you can enjoy a panoramic view of the valley at your feet, which will leave your mouth agape!

Hiking in Benimassot is a very popular alternative. In fact, many hiking routes start in this municipality. The trails will take you to such surprising places as the Coves Roges, a shelter in the L'Esmolaora Mountain Range that houses centuries-old cave art. The Tossal Blanc and the Penyal de Cantacuc are other attractive spots for MTB routes in Benimassot or on foot routes. Make yourself comfortable and get out and about in the mountains!

Among the typical food of Benimassot you can't miss a good baked rice, the 'coquetes fregides' and the stew 'amb pilotes'. Taste its gastronomy! And also get to know its patron saint's festivities, which are held in the second half of August. This is the ideal time to visit the Church of the Immaculate Conception, which has accompanied the locals since the 17th century. In short, there is a lot to see and do in Benimassot, so what are you waiting for to plan a getaway?

Find
Name
Types
Hotels
Rural accommodations
Festivals