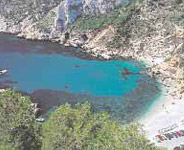 The first thing you'll discover on this route is part of the El Comtat area. Each village and settlement has been able to choose from an enviable list of places to settle in its mountains, rivers and ravine shady or sunny slopes, hills, river basins, rocky outcrops, fluvial terraces, riverbanks, etc. Settlements designed for sea production, defence, control, optimum orientation either for climatic reasons, or to take advantage of the water provided by nearby springs and sources.

These mountain landscapes and their villages are decorated by the smallholdings along the river terraces, with their wonderful mosaic of dry stone walled fields, mainly used to cultivate the sacrosanct olive, almond and cherry trees that carpet every mountain slope. You then enter the inland mountains and valleys of La Marina Alta. You'll be amazed by their luminosity, their well-balanced landscapes and their privileged location behind the coastline - something that allows you to enjoy the mountains while delighting in the views of the blue waters of the Mediterranean at the same time. Along the route, you'll discover Vall de Gallinera, Vall d'Alcalà, Vall de Laguar, etc.
#CHARACTERISTICS
Route
From Cocentaina to Calpe, visiting Benillup, Almudaina, Planes, Vall de Gallinera, La Vall d'Alcalà, Vall d'Ebo, La Vall de Laguar, Orba, Benidoleig, Pedreguer, Dénia, Xàbia, Teulada and Benissa.
Map