Benidorm Fest 2023 is getting closer and closer by the minute. Keep reading to discover everything you need to know to start planning your getaway to the Mediterranean. And attend an exceptional music event in which you can cheer on the candidates competing to represent Spain in this year's Eurovision Song Contest.
On Tuesday 31 January, nine entries will perform at the first semi-final. Another nine hopefuls will then take to the stage for the second semi-final on Thursday 2 February. And then on Saturday 4 February, the moment we've all been waiting for - the grand final - will be upon us.
This year, the Region of Valencia will be represented by Aritz Arén, Blanca Paloma, Fusa Nocta and Sofía Martín: four distinctive entries and four artists who will take their artistry to the stage. So what are you waiting for? Start planning your getaway today.
Sunday
29 January
BENIDORM FEST EUROCLUB
At Benidorm Palace
Opening Benidorm Fest 2023
7pm Orange carpet and photocall
9.30pm Performances (ticketed event)
Unión Musical de Benidorm (Popurri Song Festival)
Carlos Higues
Rosa López
La Nova, a music society from Benidorm (Popurri Song Festival)
Monday
30 January
Tickets are on sale now (€12 + booking fee)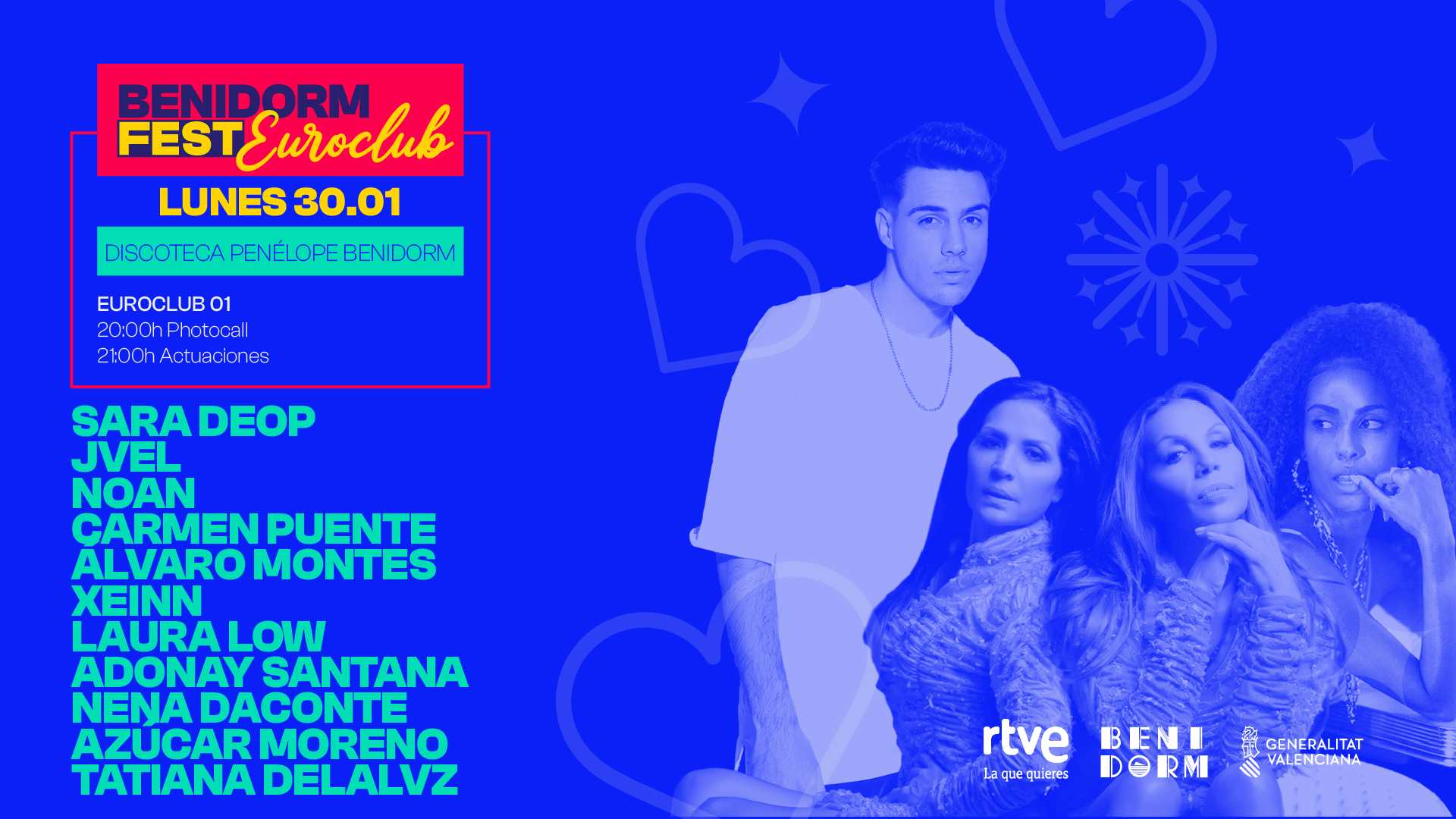 BENIDORM FEST EUROCLUB
In Sala Penélope
Euroclub 01
8pm Photocall
9.30pm Performances
Sara Deop
Jvel
Noan
Carmen Puente
Álvaro Montes
Xeinn
Laura Low
Adonay Santana
Nena Daconte
Azúcar Moreno
Tuesday
31 January
BENIDORM FEST EUROCLUB
Benidorm Fest's first semi-final
10.30pm Palau d'Esports l'Illa de Benidorm
Wednesday
1 February
Tickets are on sale now (€12 + booking fee)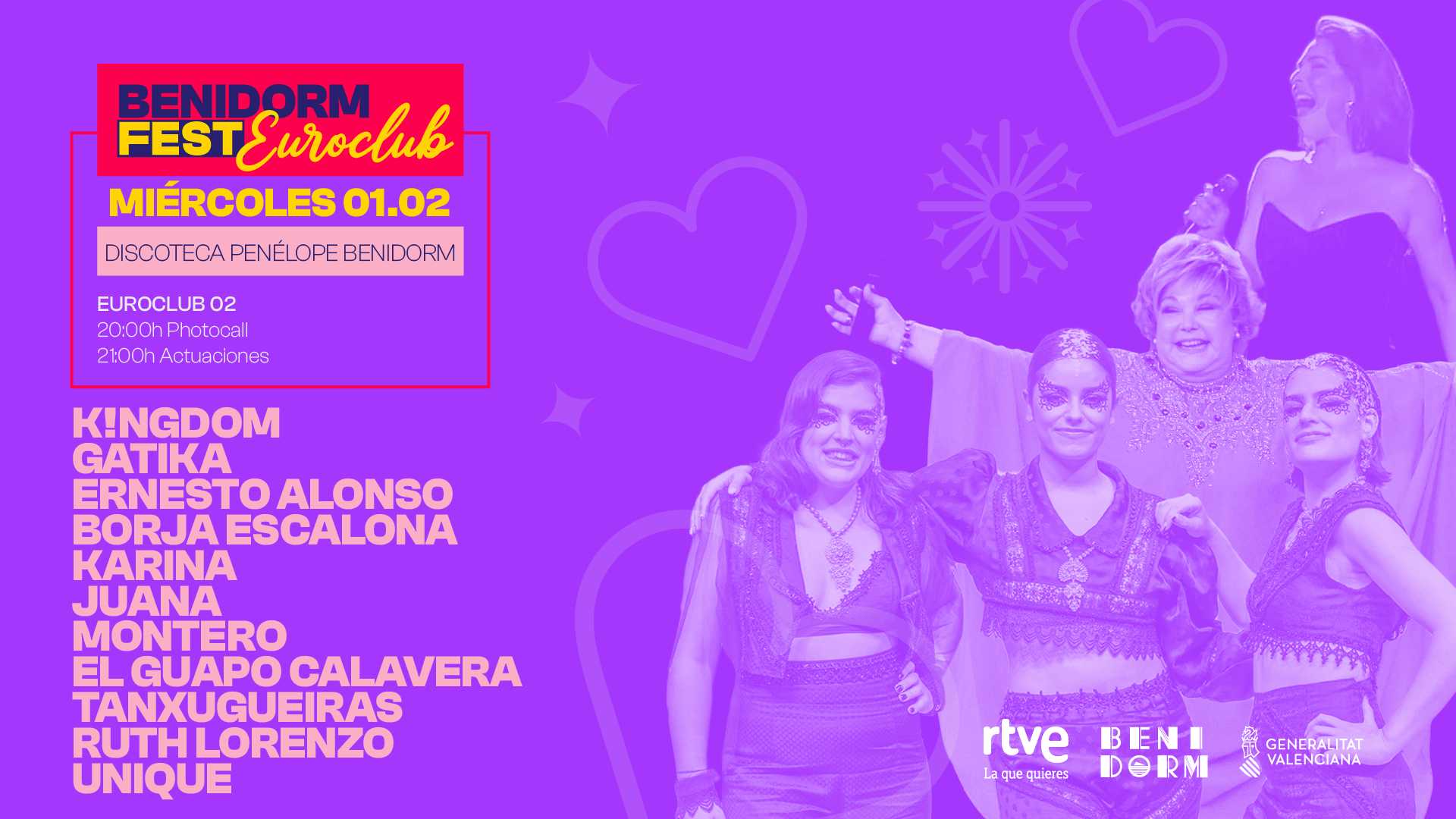 BENIDORM FEST EUROCLUB
In Sala Penélope
Euroclub 02
8pm Photocall
9pm Performances
K!ngdom
Gatika
Ernesto Alonso
Borja Escalona
Karina
Juana
Juanma Fernández
El Guapo Calavera
Tanxugueiras
Ruth Lorenzo
Thursday
2 February
BENIDORM FEST EUROCLUB
Benidorm Fest's second semi-final
8pm Preparty with DJs at Plaza Triangular (Tecnohito) where you can watch the second semi-final as it takes place on huge screens
Alfred
Blanca Paloma
E'Femme
Famous
José Otero
Karmento
Rakky Ripper
Siderland
Vicco
10.30pm Palau d'Esports l'Illa de Benidorm
Friday
3 February
BENIDORM FEST EUROCLUB
At Plaza Triangular (Tecnohito)
Euroclub 03
9pm to 1am: Performances
Soraya Arnelas
Marta Sango
Gonzalo Hermida
Ronela
Wrs
Saturday
4 February
BENIDORM FEST EUROCLUB
Benidorm Fest final 2023
8pm Preparty with DJs at Plaza Triangular (Tecnohito) where you can watch the Benidorm Fest final as it takes place on huge screens
10pm Palau d'Esports l'Illa de Benidorm