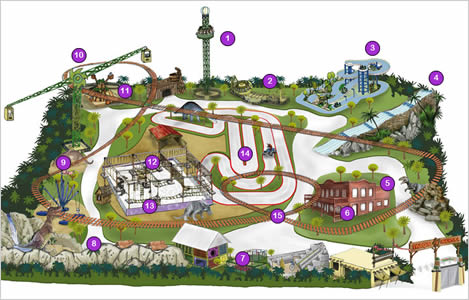 Avenida Central, s/n
12594

contact information
Discover the true meaning of adventure and adrenaline at Parque Aventura d'Or in Oropesa del Mar.
More information
Schedule
Diferentes entradas en función de la altura, para pagar solo por aquello que se disfruta: menores de 120 cm, 12,5€; entre 120 y 140 cm, 16€; entre 140 y 150 cm, 18€; a partir de 150 cm, 20€. Tiques individuales, 4€; Mixtreme, 8€ (calzado cerrado, mayores de 140 cm, menores de 12 años acompañados de un adulto); Rocódromo, 4€ (calzado cerrado, mayores de 120 cm); Pisa de Patinaje, 5€ (30 minutos)
Oropesa del Mar is home to Aventura d'Or, an amusement park that will thrill kids and adults alike with its wide variety of rides. The park perfectly combines nature and adventure.
Indeed, Aventura d'Or is nestled in a 12,000m2 natural area that is bursting with plant life, rocks and large-scale replicas of animals.
And that's just the start. Aventura d'Or has a wide range of rides and attractions that will get your adrenaline skyrocketing. The rock-climbing wall, for example, will push you to the limit while the Batidora, a thrilling theme ride, will throw you up into the air. A whole world of fun both kids and adults will love.
Visiting Aventura d'Or is a must-visit during your time at Marina d'Or. A wonderland where you can escape reality and live incredible adventures.