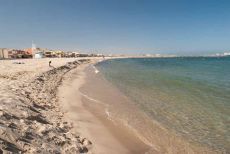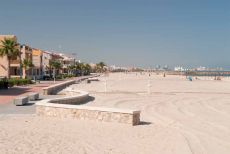 46530

contact information
Looking for a quality beach to sunbathe and swim all day? Puçol has just what you need.
The Puçol beach has more than 2 kilometers of fine sand, with breakwaters and a promenade for pedestrians only that runs along the beach from north to south and allows you to enjoy incredible views at any time of day.
If this beach stands out for anything, it is for its care and maintenance, recognized with up to 3 titles: the Blue Flag, the Q for tourist quality and the Qualitur seal confirm that this is an excellent place for the quality of its water, sand and services.
And what services will you find in Puçol beach? It is handicapped-accessible, has free public beach umbrellas, a street market, several volleyball nets to play with friends and family and a program of sports and leisure activities in summer to energize the area. There is asmalll health centre and lifeguard service to ensure that bathers are always safe.
It is a medium-low density beach so if you are looking for relaxation and rest you are in the right place. Scuba diving enthusiasts can go into the sea and find rocky seabed worthy of being observed. There are diving clubs in the municipality that offer said activities.
If you are wondering how to get to Puçol beach, there is a municipal bus that brings you both from the town center and from the residential area. You can access it by car through the Camí La Mar and also go by bike or on foot along the Vereda Mangraners. There are no excuses for not enjoying this corner of the Mediterranean, we are waiting for you!
Quality and Environment Certificates
Blue Flag
Accessible
Q ICTE Calidad
ISO 14001