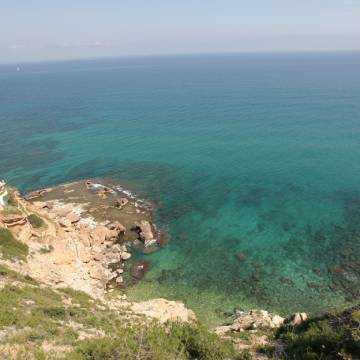 03700

contact information
A small and inviting rocky cove used as naturist beach. The tonalities of its waters are surprisingly beautiful. Snorkeling is recommended.
It is located at the end of the area known as Arenetes, in the rocky coves of Les Rotes.
You can reach by the road "Carretera del Barranc del Monyo a Les Arenetes" ( commonly know as the "Carretera Les Rotes"). That road ends in a viewpoint overlooking the Cape of San Antonio, from where you can walk along a path, and just only a few meters away you will find a hidden cove. Some steps lead down to the cove.
Important natural values: Natural Reserve of the Cape of San Antonio seabed. Posidonia meadows.
More information
Other information
If you wish to practise diving in this rocky cove, you must apply for a permit beforehand to the Dirección Territorial de Agricultura, Pesca, Alimentación y Agua de Alicante (Tel. 012/ 963 866 000). MORE INFO: http://denia.net/diving