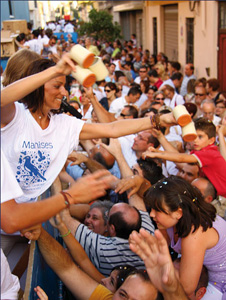 Avenida Dels Tramvies
15
46940

contact information
There are many activities organized to entertain people of all ages. Traditional Moors and Christians parades, concerts and performances, exhibitions, competitions, the solemn presentation of "Les Amfores d'Or" and above all, events related to ceramics as the Feast and the Cavalcade of Ceramics.

It was during the 17th and 19th of July in the year 287 of our era when the martyrdom of the Saints Justa and Rufina happened. They, who were born in the Triana district, belonged to a family of potters and also had trade dedicated to the sale of their products which were carefully administered and parts where devoted to meet the needs of the poor. Given its link to ceramics, it is not surprising that Manises turned them into their patron saints and devotes unique celebrations in their honour during the month of July.

Should we focus a little more on the history of Manises, there are several data to testify that the people of Manises always had them as patrons although, actually, they were not. We arrived at 1925 and that's when, thanks to a strong local and diocesan current, the Pope Pius XI declares the Saints Justa and Rufina as the Main Patron Saints of the town of Manises.

Today, Manises celebrates in style its main festivities with large emblematic activities such as the awarding of "L'Àmfora d'Or" (Golden Amphora), the Feast of Ceramics, the Cavalcade of Ceramics, concerts and performances, as well as parades of Moors and Christians. Troupes from both sides revel in their costumes and dances. On the Christian side we find Els Boïl, Artal de Luna, Menecil, Templars Crusaders and Buccaneers to fight for the land of Manises against the Moors formed by the Half Moon, L'Al-Bardi, Kelvies, Maseros and Al Nasir Salah Ad-Din. An open struggle full of colour, brilliance and originality.
More information
How to get
Líneas: 3, 5 y 9 de Metrovalencia

Type of interest
Autonomous tourist interest