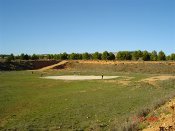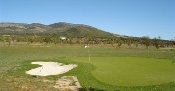 Cañada Real de San Juan (a 2 km del área de servicio de El Rebollar, A3 salida 297)
46340

contact information
El Tejo was created when a group of golf lovers applied to Requena town council to transform an area of unproductive land into a golf course. Work on the course began in 2000, and it was an exemplary effort, with few means at their disposal and requiring many selfless hours of work.
The result is this nine-hole course with double tees, making it possible to play a full round of 18 holes, and on 23 February 2009, El Tejo was certified by the Region of Valencia Golf Federation as an 18-hole course.

It is, therefore, the only certified rustic golf course in the Region of Valencia. It is an entertaining though difficult and somewhat technical course, where the uneven terrain causes the ball to bounce unexpectedly. The tees use artificial grass, though the fairways and greens are natural, except for the green shared by the 8th and 17th holes, which is also artificial.
More information
Schedule
De 08.00 a 19.00 horas
How to get
Take the motorway A-3 with output at El Rebollar (297). Take the service road and follow signs for 2 km.
#CHARACTERISTICS
Course designer
la junta directiva