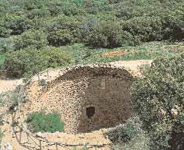 One of the most interesting features of this route is that you're travelling along a line that was never actually used by trains. The route is spectacular, not only because of the high viaducts, but also for the number and length of the tunnels that had to be cut through the Sierra de la Font Roja. This greenway will take you through the beautiful Carrascar de la Font Roja Nature Park, with a thousand-year-old oak wood that has delighted generations of inhabitants of the town of Alcoi and the surrounding area. You'll also visit Foia de Castalla and the foothills of the Sierra del Maigmó, with its Triassic rocks. The greenway runs along the base of the mountains to open the way to the desert-like area of southern Valencia with its sparse annual rainfall. At the foot of the mountains you'll come to Tibi, with one of the oldest working reservoirs in Europe.

Castalla and Alacant both have spectacular castles. You'll stroll through the old quarter of Alcoi and the luminous city of Alacant, while Agost will reveal its traditional pottery.
#CHARACTERISTICS
Route
From Alcoi to Alacant, visiting Ibi, Castalla, Tibi, Agost and Sant Vicent del Raspeig.